Federal agriculture minister Marie-Claude Bibeau met with cattle stakeholders at Agribition Saturday to talk international market boosts.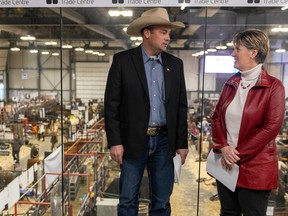 Article content
Canadian Western Agribition (CWA) wrapped up another successful show on Saturday, leaving organizers pleased with the trajectory of the cattle and agriculture exhibition in a world recovering from COVID-19 restrictions.
Article content
Preliminary numbers from the week say more than 100,000 visitors passed through the gates this year, much closer to pre-pandemic attendance than in 2021 and reflective of predictions made by CWA president Shaun Kindopp's prior to the show's start last week.
Article content
The 2022 show marked the return of students for the first time since 2019, and a notable surge in buyers and investors from overseas looking to connect with Canadian producers thanks to the lifting of travel restrictions.
More than 1,200 international guests from 63 different countries attended, representing overseas interests in Australia, Europe, Mexico, Mongolia, South Africa, and more.
The sale of cattle, genetics and agriculture-related equipment is the spine of Agribition, and CEO Kim Hextall said in a press release issued Saturday that the interest in 2022 proves the value of Agribition for producers and investors.
Article content
CWA reports that a bred Speckle Park cow, a breed that originated in Saskatchewan, sold to a buyer from Australia for $48,000 during the national sale, and a Limousin heifer was sold to a Texas buyer for $40,000.
"Many international buyers were eager to return to Agribition this year to conduct business," Hextall said. "Our international program is a significant part of the show."
To close out the final day, federal Minister of Agriculture and Agri-Food Marie-Claude Bibeau made an appearance to connect with stakeholders to discuss the future of international markets for Canadian beef and agri-food producers.
51 years of Agribition: Maidstone rancher has been there for all of them

In pictures: Thrills and spills fill Brandt Centre for Pro Rodeo
Bibeau met with the Canadian Cattle Association (CCA) and other groups on Saturday in roundtable discussions focused on the new Indo-Pacific Strategy (IPS) and to announce the creation of an Indo-Pacific Agriculture and Agri-Food Office.
Article content
The federal government has set aside $31.8 million to open the office, which will be the first of its kind for Canada.
"Opening a Canada Indo-Pacific office has long been a high-priority request from industry members and we will work with our partners to benefit from the opportunities this new initiative can bring," Bibeau said in a press release from Agriculture and Agri-Food Canada. No location or other details about the office were provided.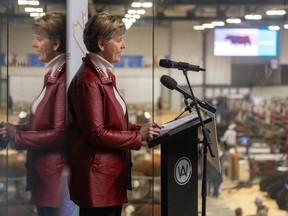 Indo-Pacific countries are the destination for nearly a quarter of Canadian agri-food exports annually, making it the second largest regional export market for Canada, topped only by the United States.
A total of $26.5 billion in mutual agri-food trade occurred in 2021 with the region, which includes top markets like India, Japan and China.
Article content
Agriculture and Agri-Food Canada said the office will be positioned "to help Canada expand trade, investment and supply chain resilience, one of five strategic objectives" for the IPS.
The intent is to further the presence of Canadian cattle in overseas economies, to the benefit of farmers, food processors and export markets, and solidify Canada as a valued global food supplier.
CCA director Ryan Beierbach said that beef producers "look forward" to expanding export opportunities into the Indo-Pacific market.
"We are proud of our role in sustainably producing a nutritious protein source for tables at home and abroad," Beierbach said in a press release.
Bibeau said Agribition was a "fitting venue" to make the announcement, given the breadth of international investors who attend the show.
Related
The news seems to be flying at us faster all the time. From COVID-19 updates to politics and crime and everything in between, it can be hard to keep up. With that in mind, the Regina Leader-Post has created an Afternoon Headlines newsletter that can be delivered daily to your inbox to help make sure you are up to date with the most vital news of the day. Click here to subscribe.
link