Hawaiian Holdings, parent company of Hawaiian Airlines, reported a third-quarter loss of $9.3 million as the carrier continues its pandemic recovery.
By comparison, the airline posted a $14.7 million profit during the same period of 2021. However, excluding US government aid, it lost $48.7 million that quarter.
"The company's overall operating revenue was down 1.9% from third quarter 2019 as its international network is still rebuilding," Hawaiian says.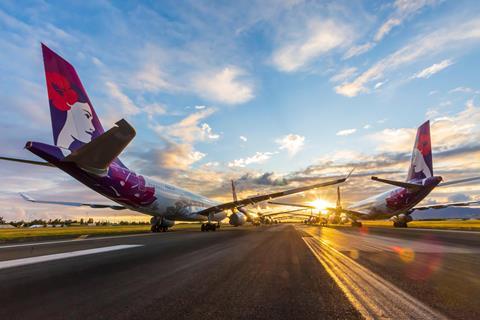 Hawaiian reports third-quarter operating revenue of $7.4 billion, a 46% increase from $4.5 billion during the three months ending 30 September 2021, the airline says 25 October.
"Demand for travel to, from and within Hawaii remained strong," Peter Ingram, Hawaiian's president and chief executive, said during a 25 October conference call. "Leisure travel has led the global recovery, and I expect this to continue."
During the third quarter, the airline operated at 93% of third-quarter 2019 passenger capacity. Last year, Hawaiian operated at 79% of its 2019 capacity.
Demand for flights between Hawaiian and the mainland USA has been "fully recovered for some time, and the peak summer period did not disappoint at all", Ingram says.
The airline anticipates a recovery in Hawaii-Japan travel, with Japan lifting most of its Covid-related travel restrictions on 11 October.
"Mindful of the cautious nature of the Japanese public and the continuing weakness of the Japanese yen relative to the US dollar, we are choosing to add capacity back gradually," Ingram says.
Hawaiian is also feeling competitive pressure from Southwest Airlines, which started offering inter-island service in Hawaii in April 2019. Southwest has recently "initiated unusually aggressive pricing", Ingram says.
"I'm going to be asked to speculate on how the current situation evolves in the months ahead," he adds. "The simple answer is that I do not know. But I do know is that the appropriate response to this challenge is to compete. So we will lean in."
In response, Hawaiian is matching Southwest's fares for neighbor-island flights. "These fares, even if 100% of seats are occupied, do not cover the cost of operations," Ingram says. 
Jumping into the cargo business, Hawaiian recently agreed to operate at least 10 Airbus A330-300 freighters for Amazon, also granting the e-commerce giant rights to own 15% of Hawaiian Holdings' stock. The carrier says it will open a new US-mainland crew base to support the operation.
Hawaiian will begin flying Amazon's A330-300P2Fs in autumn 2023 and plans to place the other nine into service by the end of 2024. It will use the jets to "move cargo between airports near the online retailer's operations facilities", Hawaiian says.
As of 30 September, Hawaiian Holdings had unrestricted cash, cash equivalents and short-term investments of $1.4 billion, down from $2 billion last year.

link